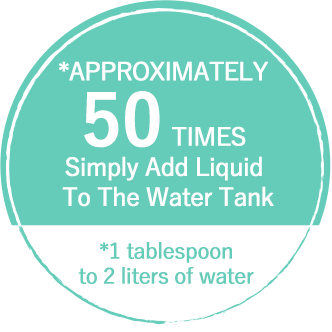 Pour appropriate amount (1 tablespoon) of fragrance liquid to your humidifier water tank.

Make sure the lid is on tightly and move the water around before fitting back together.

CHOOSE THE BEST FRAGRANCE TO SUIT YOUR MOODAdjust the amount of drops you will add to your diffuser depending on the strength of the scent you desire and the size of the space.
CHOOSE THE BEST ESSENTIAL OIL DIFFUSER

○Ultrasonic Humidifiers
○A Few Types of Hybrid Humidifiers
○Humidifiers with Detachable Tanks

*Some humidifiers do not withstand the use of essential oils
*Fragrance Liquid cannot be used with certain warm mist
steam humidifiers and air conditioners with humidification function
<Directions of Use>
●always dilute fragrance oil with water ●humidifier may be discolored inside and lead to health issues when Fragrance Liquid is not mixed with water and used in too high a concentration ●clean water tank regularly and fill it with water before adding product ●rinse and dry water tank, lid, water distribution tray and filter to avoid any mineral buildup ●wipe tank mouth and cap to prevent spills or drips

Discover your favorite fragrance from a wide variety of scents
BLOOMING BLUE

LIGHT, AIRY AND BREEZY BERGAMOT MUSK FRAGRANCE

SECRET BLOSSOM

SENSUAL, ROMANTIC FRAGRANCE

SHINY MOON

CALMING, SOOTHING FLORAL
GREEN FRAGRANCE

LOVELY CHIC

EMBRACE YOURSELF WITH A LOVELY, HEAVENLY SMELL